Tweet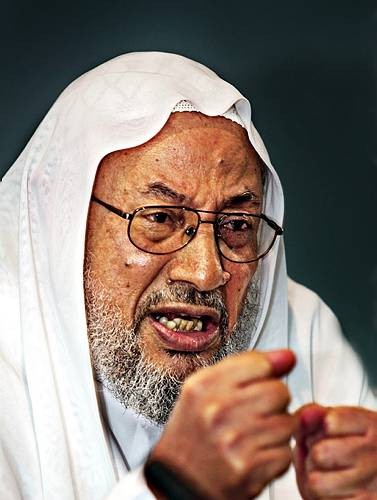 Friday prayer in Tahrir Square to be led by the Muslim Brotherhood's "father figure" Yusuf al-Qaradawi
There is nothing fatherly, moderate or democratic about this man unless the use of nuclear weapons against the "enemies" of Islam, support for the Holocaust, belief in suicide bombings and opinion that the murder of Israeli women is justified because they serve in the military constitutes fatherly thought.
Certainly not in America but maybe in some quarters of the Middle East!
The Muslim Brotherhood definitely kept a relatively low profile during the demonstrations to oust Mubarak. And yes, the organization seems to have at the very least demonstrated an ability to be tolerated by the Obama administration.
But, James Clapper, the mainstream media and Obama aside, most would agree that the Muslim Brotherhood poses a direct threat to the stability of the Middle East and by extension the globe.
So does having al-Qaradawi in the Square Friday finally bring the true intent of the Muslim Brotherhood out of the shadows and into the spotlight? It would seem that way.
Two years of al-Qaradawi statements
You the reader take a look at these statements the man has made over the past two years and determine for yourself if he is a friend of anyone or anything but an Islamist takeover of the government of Egypt and beyond.
Called on Muslims to acquire nuclear weapons "to terrorize their enemies."
Called jihad an Islamic moral duty and said Muslims are permitted to kill Israeli women because they serve in the army.
Affirmed his support for suicide bombings. "I supported martyrdom operations," he said, according to a

translation

by the Middle East Media Research Institute (MEMRI). "This is a necessary thing, as I told them in London. Give the Palestinians tanks, airplanes, and missiles, and they won't carry out martyrdom operations. They are forced to turn themselves into human bombs, in order to defend their land, their honor, and their homeland."
Called the Holocaust a divine punishment of Jews "for their corruption. The last punishment was carried out by Hitler. By means of all the things he did to them - even though they exaggerated this issue - he managed to put them in their place. This was divine punishment for them. Allah willing, the next time will be at the hands of the believers."

Prayed

for the opportunity to kill a Jew before his death. "The only thing that I hope for is that as my life approaches its end, Allah will give me an opportunity to go to the land of Jihad and resistance, even if in a wheelchair. I will shoot Allah's enemies, the Jews, and they will throw a bomb at me, and thus, I will seal my life with martyrdom. Praise be to Allah." (IPT)
Subscribe for free email or feed delivery of new articles from The Political Commentator here:
Subscribe in a reader