Tweet
Russia and China Thumb Their Noses At Sanctions, But Not Our Good Friend France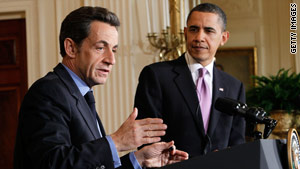 The
United States
through the years has always had the back of the French. When the going got tough, the
United States
was always there to help out. These days, while
President Obama
tries to get
Russia
and
China
to climb on board the
sanctions
train to
Iran
, with little tangible success,
French President Nicolas Sarkozy
has jumped in to bridge the gap. Viva la France!
President Obama said today that while he does not have the full support of the international community (an understatement to say the least), the
United States
and
France
are "inseparable" in their resolve for sanctions. How the once mighty United States has fallen to think that France has come to our rescue while the other world powers (we are, for the time being the only superpower) ignore our wishes.
The Russian-U.S. Negotiations
Over Sanctions
President Obama took
missile defense
in
Eastern Europe
off of the table to appease Russia...
Please click
here
to read the full story in the Homeland Security column at the Examiner.