Tweet
Tensions In Iran Could Come To A Head Thursday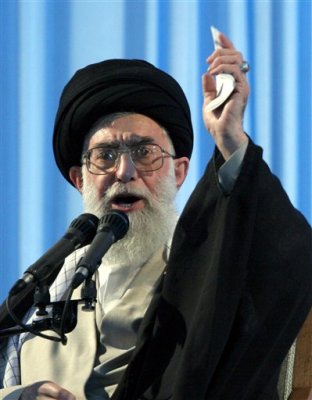 This Thursday marks the day thirty one years ago when then leader Ayatollah Ruhollah Khomeini declared Iran an Islamic state, and so began the age of theocratic dictatorship that has survived to the present. Similar to May Day in Russia, this day has typically been for celebration and shows of strength.
This year, however, promises to be much different, with as many as 3,000,000 anti-government protestors (part of the green movement) expected to converge in the center of Tehran. They will be opposed by as many as 12,000 militia, as well as 500,000 pro-government supporters. In a statement, the supreme leader, Ayatollah Ali Khamenei said that Iran would "give all arrogant powers a punch in the mouth". He went on to say this of the people who continue to oppose the reelection of Mahmoud Ahmadinejad:
"It is now completely known that those who stood against the Iranian nation's choice in the election don't belong to this nation. They are either counterrevolutionary or are following in the steps of counterrevolutionaries out of ignorance and obstinacy."
Former Iranian President Mohammad Khatami said this:
"God willing, all Iranians will attend the 22 Bahman rally in a bid to show support for the revolution and people's rights..."
With the rhetoric of the government forces escalating as well as that of the opposition, the potential for violence is very real, if not certain. Will the Iranian government stop at nothing to beat the opposition down, and if so, how far is the opposition prepared to go in the fight? Could this be the true beginning of regime change in Iran? Or will it be a blood bath that pushes the opposition back underground?
All eyes will be on Iran this Thursday.
From the
Examiner